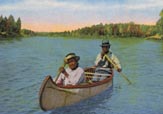 Recently Built Canoes
These canoes were just recently finished. Some were about to be transported and were not to be pitched until they arrived at their destination. All are constructed of one sheet of bark for the hull plus side panel sheets. They all have white ash gunwales, black ash thwarts and the rest of the wood is white cedar. The root is highland white spruce. Below are photos of each individually in their sequence from left to right.
---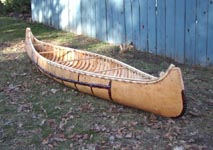 Ojibwe Oldstyle Hunting Canoe - This is the traditional style of canoe of the Ojibwe. Originally living on the north side of the St. Lawrence sea way the Ojibwe migrated over the years as far west as current eastern Montana, with bands settling along the way. Sometimes they would adapt the building style of canoes in areas in which they inhabited. From the east all the way as far west as Wisconsin, this is the style of canoe they had with only a few exceptions.

This one is 14ft long, 34 inch beam, 13 inch depth and the stem height is 21 inches. The building frame was 12' 9" long and 30" wide. Height sticks were 8.5 for center and intermediate thwart area and 9.5" for end thwart. Inside gunwale length was 13' 9" and outside gunwale length was 14'. The upward end sheer on the gunwales began 21" inboard from end of outwale. Never weighted it but guess about 45 lbs.
---

Ojibwe Longnose - The big canoe is fifteen feet 3 inches long, with a beam of 36". Frame length ... width 29.5". Height sticks 9" at center and intermediate thwarts, and 10" at the end thwart. Stem height ... It was featured in an article on touring canoes in the April 2005 issue of Canoe and Kayak Magazine. It will be paddled from Thunder Bay to Winnepeg as part of living history TV series on the two French Canadian networks.
The smaller canoe is ... a half scale version of its big brother. Virtually all dimensions were half. It is on display in a new hotel in "Big Canoe", a resort area in north western Georgia
---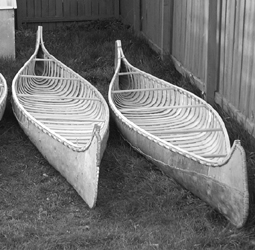 Ojibwe Oldstyle - Both of these canoes are virtually the same - just different bark. They measure 16' long, 36" beam, 12.5" depth, 21" stem height. Frame length was 13' 6". Width was 30". Height sticks - center was 9"; intermediate was 9"; and end was 10". Gunwale length - inside was 172"; outside was 176". The upward end sheer on the gunwales began 21" inboard from end of outwale. They weigh about 55 lbs. Black ash gunwales, black ash thwarts, cedar ribs and sheathing.
---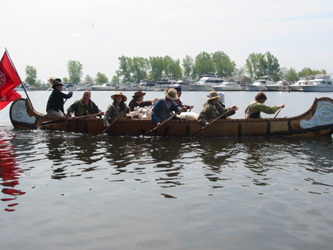 26' "North" Fur Trade Canoe - This is the style of fur trade canoe that was made by Ojibwe builders for the fur trade. The "North" canoe was used to bring down the furs from the outposts to the central relay posts where they would meet the large 34' Montreal canoes which were loaded with trade goods.

This particular canoe is shown departing Montreal in May 2005. It will go up the Ottawa River to Lake Nippising, across the French River to Georgian Bay and then westward to Old Fort William in Thunder Bay. It should arrive in Thunder Bay in late July.

It is 26'long with a 56" beam. 21.5" deep and 40" prow height. Gunwale length - inside 24' 8"; outside - 25'; 7 thwarts. Primary hull sheet of bark was 18' plus added sheets at each end. Black ash thwarts. Douglas fir gunwales.
509-327-7902 voice 509-327-7989 facsimile barkcanoe@earthlink.net e-mail
Home Canoes Classes Books Tips News and Stuff Links Consignment Canoes