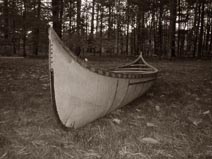 This is a bulletin board for new and used birch bark canoes being sold on consignment or any used item which you would like to sell through the site.
All items are sold on a consignment basis. If you have something you would like to sell then send us an e-mail and we will send you back the terms and instructions. 'center'>
BIRCHBARK CANOES
Click on any image to view full size




16' Malecite Canoe - Built in 2000 by Steve Cayard it is still as pristine as the day it was built. It has never been paddled. As you can see by the photos it is an exquisite work of art.
The canoe is located in Blacksburg, Virginia. For those looking for a Steve Cayard canoe this one requires no wait. $12,000.
---

16' Malecite Canoe - Made by Henri Vaillencourt in 1989. Stored indoors and in very good condition however some pitch was smeared during original shipping. Classic construction of the Malecite Indians of the 19th century, it is identical to the one featured on the cover of McPhee's book, Survival of the Birch Bark Canoe. It was ordered by the current owner to replace one that was damaged. Details were specified to be for easy paddling on flat water, consistent with the native practices, but this one has never been paddled. The original documentation is included. Located in Seattle, buyer is responsible for shipping or pick up. $7990.
---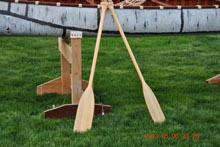 14' Old Town Cedar Replica Canoe - The Canoe is an Old Town cedar strip voyager. Its 17 feet,4 inches and is completely refinished. As you see its painted with the birch bark faux finish. Canoe chair and paddles are included. Canoe is located in Illinois near Chicago. $2300
509-327-7902 voice and fax john@barkcanoe.com e-mail
Home Canoes Classes Materials Accessories Tips News and New Stuff Links