The
Bark Canoe Store

Shop Address:
15 East Sinto
Spokane, WA 99202

Mailing Address:
1111 West 10th Avenue
Spokane, WA 99204


(509)327-7902
(office voice & fax)
(509)327-1850 (shop)

barkcanoe@earthlink.net

www.barkcanoe.com
John Lindman
proprietor/builder

Copyright (c) 2010
All Rights Reserved
IN THIS ISSUE
1. News
- Update on Fiberglass Replica Canoes
Economy Models and Kits! Hybrid Update
---
FIBERGLASS REPLICA CANOES
If you haven't been to the web site lately and you have an interest in the fiberglass replica canoes I recommend you pay a visit - there are many changes since the first of the year.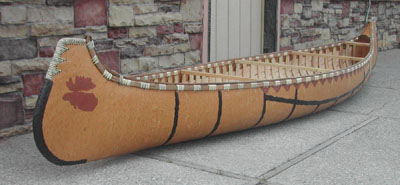 Economy Canoes

Trying to make the highest quality product can run up the price so I wanted to offer an economy model which is still a fine product but with a lower price tag.

Using the same molds these hulls are hand laid with two layers of a special type of fiberglass cloth which is exceptionally strong and vinyl ester resin - more flexible and durable than polyester resin. The hull has no ribs so it just looks like a fiberglass canoe on the inside. They are about 5 to 7 lbs heavier than the infusion models but about $350 less expensive.

To make it even more affordable we decided to offer these as kits. You can order just the hull and do the rest yourself using materials you get locally or you can buy the whole kit from us.

Here's the package:

- 16' hull - $975; 18' hull - $1075

- Sitka spruce gunwale blanks $150

- White ash thwarts (5) $100

- Lashing material (500 ft) $35

- Polyurethane pitch (3 tubes) $20

- Stainless steel screws (box of 100) $10

- Instructional DVD $15

You can get the whole kit or any of the parts. The canoe is painted and the pitch lines are marked as to where the pitch goes. The gunwales will need to be cut into inwales, outwales and caps as well as to be bent. The thwarts are cut to shape but will need to be trimmed to size and tenoned for fit into the gunwales unless you prefer to just bolt them in place.

Wood for gunwales and thwarts can be gotten locally if you prefer. Most lumber yards carry douglas fir and while it is heavy it is resistant to rot and will take a decent bend. You can also check mills depending on your area and get white ash or white cedar - gunwale stock MUST be clear, no knots. Also boat builder supply stores typically carry sitka spruce which is what we use for gunwales. Almost any kind of polyurethane sealant will work as pitch. We use Sika Flex brand and that can be obtained from most contractor supply outlets. You can get screws locally as well. Use stainless steel, brass or bronze so that they don't rust or break down.

If you get together with your buddies and get more than one canoe then there can be a savings on the shipping. The 16ft models in some cases can nest into the 18ft hulls so you can ship both for the price of one.

The kit concept also applies to the infusion boats. These are $350 more per hull.

If you have wanted one of these canoes but just couldn't swing it perhaps this is the solution.

With what is happening in the world of oil don't anticipate that fiberglass materials will be coming down in price. My guess is this is as low as they will ever go. Give me a call and I would be glad to answer any questions you might have. Get with your buddies and if several canoes are ordered we might be able to get the shipping way down. We'll do our best to make these affordable.


---
Hybrid Canoe Update

We offer three types of replias now- the infusion bagged canoes (super light), economy, and the hybrid.

The hybrid has a fiberglass hull but it has been left very flexible so that when fitted with ribs and sheathing it forms up just like a birchbark canoe. It has not only the look but also the feel of a birchbark canoe because everything is put together with pressure - ribs and sheathing.


15ft Ottawa River Algonquin Hybrid.

This canoe was recently completed for a museum in northern Indiana. It weighs 62 lbs, is 14' 10" long, 35" wide at the center.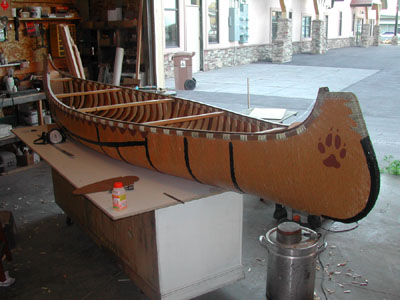 It is equipped with sitka spruce gunwales, white ash thwarts, wood stem pieces, white cedar ribs, red cedar sheathing, simulated root lashings.




With the ribs pounded in the hull has a slight rocker - typical of birchbark canoes and slight tumblehome at the gunwales. I designed the hull of this canoe in virtually every aspect to replicate the look that results from the standard building methods employed in making birchbark canoes.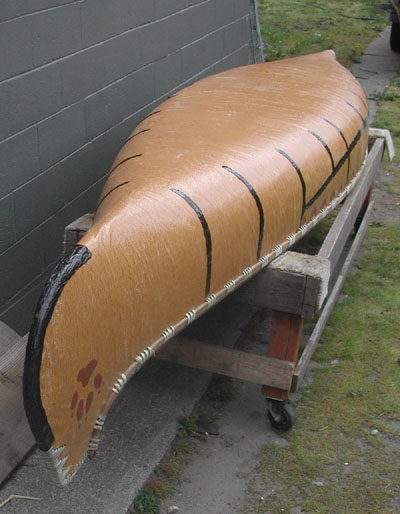 The hull has a shallow arch - almost flat but slightly rounded, ideal for all around paddling.


---
16 ft Ojibwe Longnose Hybrid



This canoe was also done for a museum in the midwest. In upcoming newsletters I will give you the details on both exhibits - neither of which are open yet - as well as photos of the canoes in the exhibits themselves.

It is 16 ft long, 36" wide at the center and about 65lbs. It too has a shallow arch hull, slight rocker and tumblehome at the gunwales. The materials are the same as the 15' Algonquin.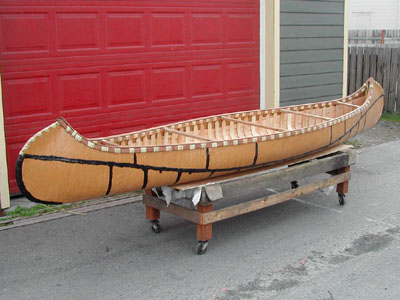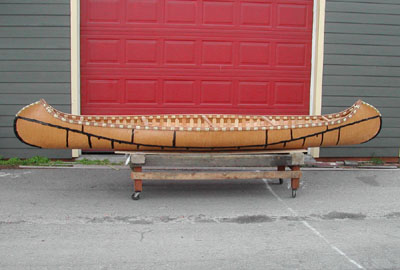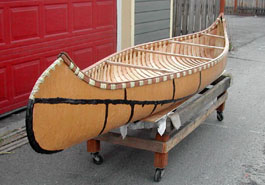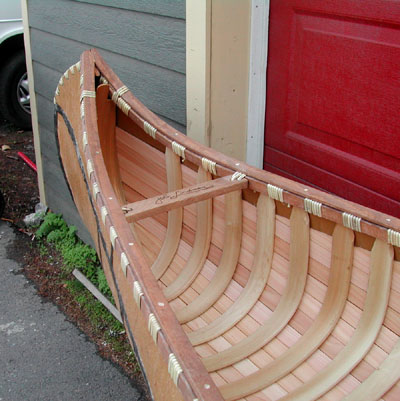 ---
Enjoy the summer!
-----------------------------------------------------------------------------------------
To remove yourself from this list, simply reply to this email with the word "REMOVE" in the subject.
------------------------------------------------------------------------------------------