The
Bark Canoe Store

Shop Address:
15 East Sinto
Spokane, WA 99202

Mailing Address:
1111 West 10th Avenue
Spokane, WA 99204


(509)327-7902
(office voice & fax)
(509)327-1850 (shop)

john@barkcanoe.com

www.barkcanoe.com
John Lindman
proprietor/builder

Copyright (c) 2011
All Rights Reserved

Welcome!

No newsletters for a while because of so much technical change at this end - new server, new e-mail address - please note, new newsletter hosting, etc.

To top it off my former web host mistakenly deleted my mailing list for the newsletters. Oops! (Main reason for the delay)

Lots of news has been stacking up in the meantime so here we go for 2011. Thanks for bearing with me.


---



(Click on the photo for the full story)

Destination Nor' Ouest

Back in 2005 a film production company from Winnepeg contacted us to build a 26' fur trade style birchbark canoe as well as (4) 16' birchbark canoes and (2) 18' fiberglass replicas.

They were to be used as part of a living history reality series featured on the French speaking Canadian TV channel TVA. Eight installments covered 8 participant's trek from Montreal to Winnepeg via canoe re-enacting and retracing the voyageurs' canoe routes.

By clicking on the photo you can go to TVA's web site and watch the series or view more photos. Mind you it is all in French but even if you can't understand the words the visuals are worth the watching.


---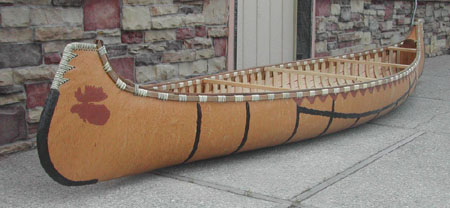 Fiberglass Replica Canoes
15 Foot Hybrid Model

We are now making 3 classes of fiberglass canoes

1. Infusion method - infusing resin through a vacuum bag. Super light.

2. Hybrid - made like a birchbark canoe inside and out with a fiberglass skin.

3. Economy - hand laid, strong and low price.


Click on the image to see the full article
with more photos and descriptions of each.
---
Movie Review

French Canadian trapper Jules Vincent, well portrayed by Stewart Granger is a happy go lucky guy who's luck goes bad.

Follow the adventure down river in his birchbark canoe, over land into the Canadian Rockies to his trapline in the cold north, across the barren snow via snow shoe and dog team and through trecherous white water.

Beautifully filmed on location in the area of Sun Valley, Idaho with a great cast this well directed picture by Andrew Marton gets a big thumbs up!

Oh yes, kudos to the art department with great props, backdrops and the replica canoes and stunt men were awesome in the best white water canoe footage I've ever seen. This movie was recommended to me by one of our subscribers and I really enjoyed it. Thanks!

I mentioned it was filmed in the Sun Valley area. You can really recognize that in the winter scenes. I use to live there but I'm not so sure about the summer scenes. Perhaps they used Redfish Lake and the river was the upper Salmon but I'm inclined to think it was in the Jackson, Wyoming area. Again I'm not certain - it was a long time ago when I was there - so let me know if you have further info. Great country.


---
Thanks to all of you who have sent us ideas and feedback. I enjoy hearing from you. Also to those who have been telling others about the newsletter and our products, thanks!

John Lindman
---
-----------------------------------------------------------------------------------------


Forward this to friends.


If they wish to sign up for future newsletter have them send me an email entitled "SIGN ME UP FOR NEWSLETTER".

To remove yourself from this list, simply reply to this email with the word "REMOVE" in the subject.
------------------------------------------------------------------------------------------